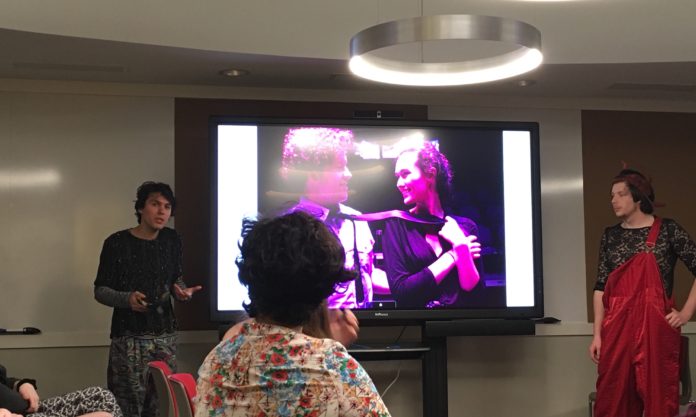 On Friday the 27th of April, Transylvania University officially opened the new Carpenter Academic Center to the public. At the same time, the University also held its inaugural Student Academic Conference.
Timed to coincide with the start of the 2018 Alumni Weekend and a prospective student preview day, the Academic Center (formerly known as Haupt Humanities) was opened for tours, informal walk-throughs, and academic presentations.
Academic Dean Dr. Laura Bryan noted that renovations to the Haupt building had been a long-term project and that she was happy to see it come to completion. As the building has opened back up, the new color scheme, a yellow- and gold-heavy mixture against tile and hardwood floors, has led one Spanish professor to affectionately dub Carpenter "La Vara de Oro" (the golden rod).
May Term classes are now being held in the building, and Humanities and Social Sciences professors are in the process of moving into their new offices and out of their temporary offices in Hazelrigg Hall.
The Academic Conference was meant to highlight student work from a variety of disciplines. Dean Bryan emphasized that the Conference "was run as a partnership between SGA and the Dean's Office."
Student work was nominated by the faculty directors of academic programs and was sent to SGA organizers for review. SGA then sent a final list of submitted works to Dean Bryan for approval. Dean Bryan noted that the conference was "open to all programs" in an attempt to highlight the breadth of a liberal arts institution.
The conference featured topics ranging from art exhibitions and literary analysis to quantum efficiency and the role of the Catholic Church in a post-genocide Rwanda.