I cannot think of anything more important to a true college experience than snack food, especially during times of stress, such as finals week. The problem with snack food is that so much of it is unhealthy. Stuff like chips and candy, rich in sugar and fats, is far more likely to be consumed than fresh vegetables. It is not hard to discover why. Snack foods are far more appealing if they are sweet or salty. But here is a recipe on how to have the best of both words.
Chia jam. It may sound like a health nut's key to healthier toast in the morning, but this stuff is actually delicious. It is sweet like candy, and if you spread it on crackers, you can get a salty crunch in there as well. The fact that chia seeds are packed with protein and you use honey instead of sugar only makes it even better.
Most recipes tell you how to make jam with fresh fruits, by heating the fruit, blending it, and then mixing it with the other ingredients, but honestly that sounds rather time consuming. Instead, you can just take your favorite flavor jam and mix it with some water, honey, and chia seeds to make a delicious, sweet and hearty snack perfect for those late-night study sessions. I used apricot jam in my recipe, but honestly any jam will do. I particularly recommend raspberry or strawberry.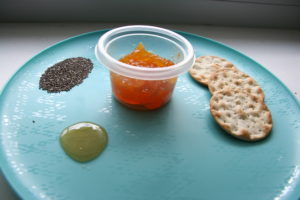 The first step is to combine a quarter cup of jam with a teaspoon of honey and 2 tablespoons of chia seeds. You can stir this in a bowl, or you can stir it directly in the container you will be refrigerating and keeping the jam in. You will also need to add 1 tablespoon of water to make the mixture a little thinner because the chia seeds will soak up a fair bit of the liquid. Make sure you stir the ingredients well.
Once the jam is mixed, if you have not already, add the mixture to a resealable container. This can be a mason jar or just a plastic container. Both will work. Then, the jam must be refrigerated for at least an hour to allow the chia seeds to soak up some of the liquid of the mixture and help the jam thicken to an easily spreadable paste.
Once the jam is ready, feel free to spread it on whatever food you would like. I prefer crackers, especially for a mid-afternoon snack. However, it can be delicious on toast, a sandwich, or even with biscuits. The only limit is your imagination.
---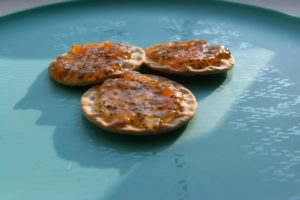 Recipe
Ingredients
¼ cup jam (apricot, strawberry, and raspberry are all excellent flavors)
1 tablespoon water
2 tablespoons chia seeds
About 1 tsp. honey. (Adjust to taste)
Directions
Combine jam, water, and chia seeds in a container. Stir until well mixed.
Cover and refrigerate for at least an hour.
Remove from fridge and spread on medium of your choice, such as toast, crackers, or bread.
Enjoy!