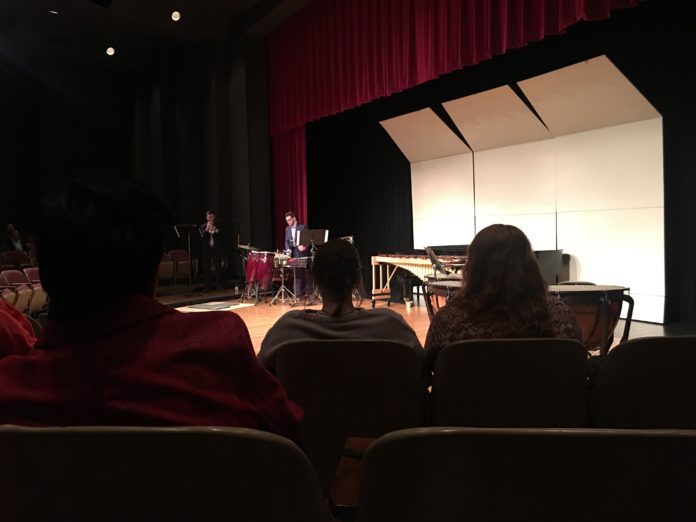 Senior J. T. Henderson stepped out to greet a packed Carrick Theater, dressed for the occasion in a sleek, blue suit, but still maintained a casual appearance, with no tie to be found. Henderson is in his final stretch here at Transy as a Molecular & Cellular Biology and Spanish double major with a minor in Music. He plans to further his education by attending medical school where he wants to get a degree in both public health and medicine.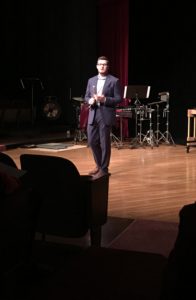 Henderson's Senior Recital was a dazzling display of varying styles of music that was split into four different songs.
For Henderson's first piece, "Chieba" by Jan Bardley, he played multi-percussion with accompaniment from Daniel Cooper on the trumpet, who is a junior at Transy. This piece proved to be not only loud in volume, but was a great way to kick off his recital because of its upbeat nature and rousing rhythm.
Henderson on drums while Daniel Cooper plays trumpet. Both were moving around and dancing to the rhythm.
The next piece "Raga No. 1" by William Cahn was unique, with Henderson playing the timpani, which looked like a set of four, copper-based drums all in semi circle, with Henderson sitting behind them. These drums are also called kettledrums, which are drums consisting of a copper base, with a skin stretched over top. He started off playing them softly with his mallets/drumsticks, and this sound gradually began to increase in volume as well as in tempo. The performance became physical, with Henderson moving back and forth between each of the four drums. Near the middle of the song, Henderson released one of his drumsticks and played one of the drums with his fingers, which created a softer sound and unique effect, while he used his other hand to simultaneously play another one of the drums using a drumstick.
The piece that followed was "About Escher" II. Phosphorescent Sea by Mario Carro, which was an absolutely stunning piece. It featured Henderson on the marimba and a collaboration with senior Peyton Thomas on violin. The blend of the marimba with the violin created a sound that simulated water flowing, and sounded as if more than two instruments were used in this piece. Listen to some of "About Escher" with the video clip below.
"This piece is really interesting because Escher is known for his highly geometrical subjects" said Henderson.
Henderson ended the recital on an energetic note (literally) with the piece "Concert Pieces for Timpani" by Paul Sarcich, which included stomping, clapping, and even one or two exclamations of olé mixed in. This piece was a duet with pianist and professor at Transylvania, Loren Tice, who also clapped along to the accompanying/different rhythm from Henderson's and played piano where it was needed. This proved to be yet another rousing piece, which was a nice way to mix up the mood in the room with the selections.
Henderson introduced this piece in front of the audience by giving his reason for choosing it. "In an interview about why Sarcich wrote the music, he essentially said that the repertoire for the soloist is not weak and he wanted this to be that. That's what drew me to this piece, especially this movement. It's very lively and very non-traditional and technical in ways that I never made it look."
Henderson added, "I played this piece during my sophomore year for the first time, loved it, and so I had to bring it back today."