Mug cakes. They are becoming an increasingly popular college treat. And why shouldn't they be? They are easy to make, and they are great for a single serving snack without the work of making a full-size cake or a complete batch of cupcakes. There are recipes all over the Internet for how to make them, and grocery stores sell packets of pre-made cake mix specifically designed for mug cakes.
The problem is that many of these recipes do not live up to the hype. Some of them end up with a soupy center, while others will be dryer than the Sahara Desert. So how do you know which ones are good? Honestly, you cannot really know for sure unless you try it. You could also look at comments sections to see what others who have already tried it have to say. Or you could simply use the recipe I've provided below as a good starting point. This recipe has been tried and tested by the Transylvania Culinary Club with good results. But don't take my word for it, try it out for yourself.
This is an apple spice cake with caramel sauce. Now, I know that may sound more like a fall treat, but honestly, this light and fluffy cake tastes good all year round.
First, in a mug, mix the dry ingredients together. This includes the flour, baking powder, salt, sugar, and spices like cinnamon, nutmeg, and allspice. You could also cheat and just buy a package of apple pie spice and add 2 teaspoons of that to the mixture. You are also going to want a larger mug, about 14 ounces or bigger, because this cake is going to rise a lot, and you do not want it overflowing.
Next, make a well in the center of the mixture. (Essentially this means just pushing the dry mix to the sides so there is a hole in the center of the mixture where you can pour the wet ingredients. This will make it easier to mix together.) Pour the wet ingredients into the center; this includes the water, milk, olive oil and applesauce. (Just a quick note here, if you decide to use regular applesauce instead of unsweetened, definitely cut back on the sugar in the first step.)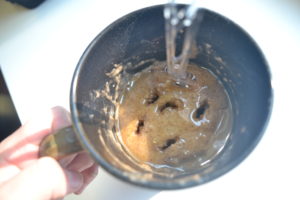 Mix all the ingredients together with a whisk or a fork if you do not own a whisk. Whisk until there are no lumps remaining. At this point, you are going to start heating up the cake. Put a paper towel in the microwave underneath the mug just in case there is any spillage. Heat the cake on high for about a minute and fifty seconds. Time will vary depending on your microwave.
For the last step, remove the cake from the microwave and drizzle some caramel sauce on top. It adds a whole new dimension to the cake, and you will not regret it.
And you're done! Mug cakes are actually super easy to make, which is one of the things that gives them their appeal. The only problem is the number of ingredients, which is understandable! But keep in mind that mug cakes are made in small portions, so you can buy ingredients that will last you through several mug cakes. You won't regret it.
---
Salted Caramel Apple Spice Mug Cake Recipe
INGREDIENTS
1/4 cup all-purpose flour
pinch of nutmeg
1/8 tsp. of allspice
1/4 tsp. cinnamon
1/2 teaspoon baking powder
3 tablespoons granulated sugar
Pinch of salt
1 1/2 tablespoons unsweetened applesauce
2 tablespoons milk
1 teaspoon olive oil
1 teaspoon water
Caramel sauce (can be salted or unsalted depending on your preference)

Photo by Moira Hedrick
INSTRUCTIONS
In a small bowl, whisk together the dry ingredients. (Flour, baking powder, sugar, salt, spices).
Make a well in the center of the dry ingredients, then add the wet ingredients (applesauce, olive oil, milk, water). Whisk everything together until combined and no lumps remain.
Pour batter into a microwave-safe mug. 14-ounce mug or bigger. You want enough room for the cake to rise without flowing over.
Place a paper towel in the microwave and set the mug on top (this is to catch any batter if your mug cake does happen to overflow, but don't worry, it should not).
Microwave mug cake for 1 minute and 50 seconds on high.
Carefully remove from microwave, drizzle (salted) caramel sauce on top and enjoy!