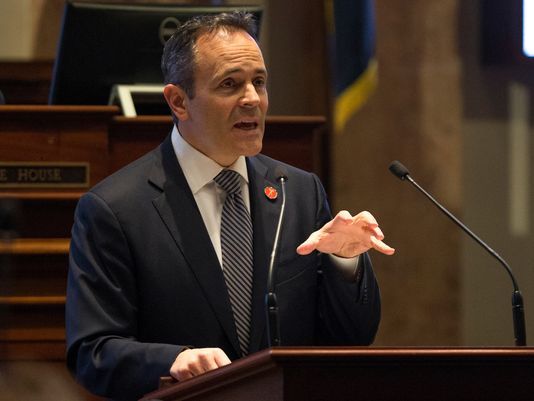 On January 16th, Governor Matt Bevin announced a two-year budget proposal that cut funding for 70 state programs and decreased spending by 6.25 percent. Both higher education and public education are proposed to have weakened funds due to the governor's recommendations.
According to an article published on the Lexington Herald-Leader, "It's not yet clear how schools and universities will deal with Bevin's proposed 6.25 percent spending cut, which Bevin said would not affect the main funding formula for K-12 schools. It's also not clear how many of the 'about 70' programs Bevin proposed to eliminate are education related." 
K-12 schools are expected to adjust to a cut of $198 million; as stated in a Lexington Herald-Leader article, "Although Bevin gave the impression he wasn't cutting K-12 education, because he was keeping the basic SEEK formula at $3,981 per student, he is cutting education a lot, largely by shifting transportation and insurance costs to local school districts." Those cuts are detrimental to poorer school districts, as the state aid goes towards providing "textbooks and instructional materials, professional development for teachers, and smaller special programs," according to the Courier-Journal.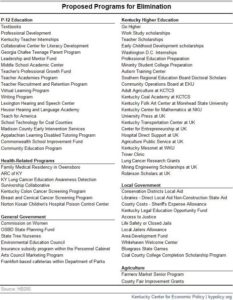 Universities are expecting a loss of revenue from the decrease in state funding, as well. "UK estimates it will lose about $16 million from its state appropriation next year because of the 6.25 percent cut, plus an additional $10 million from Bevin's plan to eliminate state funding for specific programs," as detailed in a Lexington Herald-Leader article. Similarly, Western Kentucky University will face a deduction of  $4.6 million each year, "on top of a $15 million deficit the school is currently working to solve," according to the same article.
The proposed budget also suggests cutting the University of Kentucky Robinson Scholars Program, which offers scholarships to first-generation college students from Eastern Kentucky, and the University Press of Kentucky. Bevin claims that the funds gained from the cuts will be devoted to relieving Kentucky's pension program, which has "more than $40 billion in unfunded liabilities."  
Dr. W. Alan Bartley, an associate professor of Economics at Transy, addressed Bevin's strategy in refunding Kentucky's pension system, which seems to inevitably lead to tax reform. "Could the state generate sufficient revenue to pay for both the pensions and programs? Yes. I am one of several economists that forecast the annual budget for the state of Kentucky based upon current tax laws and economic activity forecasts. We recently forecasted a slight increase in tax revenues collected for the next two years, but not nearly enough to fund the pension issue Bevin is addressing," said Bartley.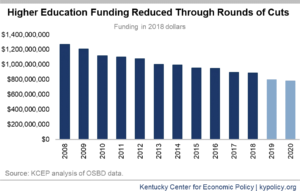 "So, the legislature could certainly increase taxes to pay for these pensions. But then you get into the political issue of who will pay the extra, through what form of taxation, and how that will affect the state in the future (i.e., will people/businesses move away?). These choices are what are referred to as potential tax reform. There is no one right economic solution to this problem; people/legislators have to decide politically and socially what they believe is best, given the final consequences."
Along with relieving Kentucky's strained pension, Bevin targets areas that are in "dire" need of funding, such as foster care and adoption services and the present opioid drug addiction crisis. Bevin will allocate more funds specifically to drug-addicted pregnant women, claiming that "the cost on the children that are born to an addicted woman, and the cost on society financially, emotionally, sociologically, communally…is too high."
While concluding an address covering the budget proposal, Bevin promised Kentuckians that they would see tax reform by the end of 2018. "You are going to see proposals coming from me and I want to see any and all proposals coming from you," said Bevin. "Let's dream big dreams."
Kentucky Democratic Party Chair Ben Self told the Courier-Journal "He [Governor Bevin] knew last year his budget was flawed with a $156 million shortfall, but instead of fixing the fundamental issues facing our state, he chose to play politics and cripple our state further by defunding critical elements of our public school system — transportation, textbook money, professional development and a capped health coverage for teachers. We need a budget that fully funds our public education system, and doesn't gut it as the governor has proposed."
House Speaker Pro Tem David Osborne (R-Prospect) is attracted to the idea of shrinking Kentucky's expenses, according to the same Courier-Journal article. "I think it is a positive step that we are targeting where these reductions will be as opposed to just broad-brush, across-the-board cuts," Osborne said.
On September 12, Attorney General Steve Beshear released a letter sent to Bevin and state budget director John Chilton that outlined "his concerns about their plan to close an estimated $200 million budget shortfall and add $150 million to the state's rainy day fund for emergencies," as reported by the Lexington Herald-Leader.
More recently, Beshear called for the release of an analysis that showed how much Bevin's proposed pension reform plan would cost. Bevin's administration denied the release in November, according to the Herald-Leader, which Beshear decided broke the law: "Gov. Matt Bevin's administration violated the Kentucky Open Records Act when it refused to release an actuarial analysis showing how much the Republican governor's proposed pension reform plan would cost, according to a ruling by Attorney General Andy Beshear's office."
Bevin responded to the request for the release of the analysis by asking lawmakers to consider allowing the governor to appoint the state's attorney general and judged, rather than having the individuals elected. He called the attorney general "highly incompetent" and challenged the qualifications of present judges in Kentucky, though targeting no specific individual.