January means it is the time of New Year's resolutions, and according to Reader's Digest, one of the most popular New Year's resolutions is losing weight. But losing weight is hard. It means taking time to exercise, and it also means eating right. While many people will probably forget all about their resolution or give up before the month is out, here is some advice for how to make losing weight a more manageable goal through eating right. People can help their journey by seeing what gadgets are out there that can get them further to their goals, for example, a fitness tracker is very popular with those who want to keep on top of their daily habits, and websites like Mobile Mob can provide the accessories for them so they can feel more connected to their workouts and eating regime.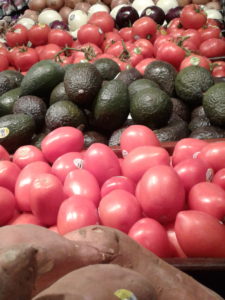 Drink water
Having beverages without the caffeine and sugar of flavored drinks seems a little obvious for a way to lose weight, but sometimes it is not so much about how much water you drink, but when you drink it. The National Institute of Health says that if you drink water at certain times, it can aid in digestion, speed up your metabolism, and help you feel more energized. The best times are when you wake up and before you go to bed, and having a glass of water right before eating or exercising is also a guaranteed way to promote a healthier you. If you really hate water that much, you could always add fresh ingredients to it, like sliced lemons, raspberries, or even some mint to add some flavor. It's less expensive than buying the already flavored waters, and it helps give you nutrients in addition to keeping you hydrated.
Fresh fruit and vegetables
Fresh fruits and vegetables are the secrets that everyone already knows are crucial to being a healthier person. But they are important, which is why I have included them on this list. Especially green vegetables like broccoli. They are packed with vital nutrients, and the sugar they contain is generally good for you. Of course, fruit and vegetables are so important to have in a balanced diet, however, sometimes people can skip them out of some meals. Realistically, we should be having fruit and vegetables every day. If you're not managing to achieve that, it might be worth looking into some supplements to ensure you're still getting the beneficial nutrients that fruit and vegetables offer. If you'd like to know more about these supplements, you could read more from Revive MD. Hopefully, that will help you to live a healthier life with a balanced diet. It's also worth mentioning that pre-packaged fruits and frozen vegetables lose nutritional value from their original fresh state, and they gain more sugar. Also, eating fresh fruit and vegetables is a great alternative to snacks like potato chips and candy. You can eat more for the same amount of calories, and you get a ton of nutrients vital to keeping you healthy.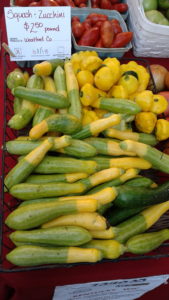 Don't eat close to bedtime
In college, we all crave those midnight snacks. Something to munch or sip on while we furiously type essays or work on projects late into the night is a way to help us maintain focus. Or so we think. Eating or drinking beverages with sugar and caffeine at night, especially close to bedtime, is a surefire way to gain weight. Your metabolism isn't working as well that late at night, and it will make it harder for you to fall asleep. Studies indicate you should not eat six hours before you fall asleep, but I know that seems unreasonable. As long as you give yourself a couple hours without eating before bed, you should start seeing improvements. Eating sugary foods straight before hitting the sack is a surefire way to hasten the effects of tooth decay, so make sure you brush properly and book regular appointments at your local dentist – Dentist Coconut Grove.
Stay away from Grease.
And no, I don't mean the movie. Greasy food is particularly bad for you, especially anything fried. That means limiting your carryout pizza or Mad Mushroom cheese sticks and also staying away from those fast food restaurants and fast food style foods. And unfortunately, that does include French fries. However, there are alternatives. Making French fries in the oven is a much healthier alternative, and you can also use the best air fryer you can afford to still fry your food, just in a healthier way. I know it is not exactly the same but they still taste amazing.
Beware Dressings!
A popular way to beat the health kick is by eating more salads. But there are some salad dressings that can be just as fattening as what you normally eat. Dressings like Caesar and ranch are packed with fat and oftentimes sodium. And while I know some people consider salads terrible without these creamy dressings, there are alternatives. Balsamic vinegar and olive oil are a popular combo, as are various types of vinaigrettes. But if none of those appeal to you, you could just as easily get a pita wrap without condiments like mayo and ketchup, and you will still have a healthy meal.
Olive Oil vs. Butter
Butter is an amazing ingredient that makes so many things taste better. My family calls it the "secret of cooking and life." But butter can be incredibly fattening, especially in large quantities. Plus, it wreaks havoc on cholesterol. But there is an alternative. Olive oil can be a great substitute for anything that might include butter. While it may not taste the same, it is healthier. Besides, olive oil has worked for the Greeks and Italians for thousands of years, so it must have some benefit.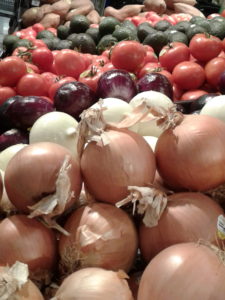 Stay Away from Diet Meals
While meals from companies like Jenny Craig and Nutrisystem will help you lose weight, they also force you to buy more of their meals, because they are designed so that if you stop eating them, you will gain the weight back so that you have to buy more meals. This goes for certain medicines to aid in weight loss too. Don't take short cuts. These aids may help you lose weight faster, but you will be paying the price in the long run. Taking more time and putting in extra effort will be worth it in the end. Your body will thank you later.
That's seven easy ways you can help fulfill your weight loss goals this year. It may seem daunting, but eating the right stuff can go a long way in helping you achieve your goal. Just be sure you make sure to stay active as well, because all the dieting and health tips in the world won't do you any good if you are sitting around all day. Even just stretches in the morning can go a long way.