Full of artistic talent and musical vision, Senior Griffin Cobb gave a stunning final performance to a packed crowd at Carrick Theater last semester. He was able to showcase his multi-faceted music abilities while also letting his charismatic personality shine through, performing in jeans. He majors in Music Technology and Spanish, with a Computer Science minor.
Cobb's senior recital was divided into four segments. He opened the recital with a guitar and electronic synthesizer piece called Blue Stained Glass; he wrote the piece for Studio 300, which is Transy's electronic music festival that comes around every two years. Cobb used a mix of pedal effects with different guitar tracks and some distortion, and he played live guitar over top during his recital. Cobb calls it "a study in electric guitar timbre." He used the opening of the recital to demonstrate the full range of both his instrument and his playing ability.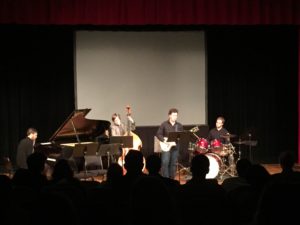 "In another section, I have three studio pieces that I invited some other musicians to come record tracks and mixed those," said Cobb.
One of the artists Cobb collaborated with was a sophomore at Transy, soprano Ruth Choate. Both collaborated with drummer Brandon Trapp to cover the song "Angel of Small Death and the Codeine Scene" originally by Hozier.
"She [Choate] didn't have any specific songs in mind. She just came in and we went through a bunch of songs that I'm into that I just had on my computer and eventually she was just like 'I really like that one' and we went for it," said Cobb. Choate's ethereal soprano vocals over top of of the guitar and drum tracks added a fresh take on the song.
Collaborating with other musicians and getting their feedback is also something Cobb will miss.
"I've played classical before, but I don't do that anymore, and it's really cool to get other perspectives." Cobb's collaborations with other musicians for this concert added a layer of depth and creativity.
The third section of the recital was comprised of a video game called Traffic Cop Hero 1000. Cobb and two other people created the game over last May Term for their Game Design course.
Cobb called it "a retro-style game, and I wrote music for that. I thought it would be fun to put in the recital, and I played that up on the projector."
The unique mix of interactive visuals and elements was a fresh addition to a senior recital that concert audiences don't usually experience. Cobb's background in Computer Science allowed him to bring in this element of game design and incorporated the music with visuals, such as the colorful 16-bit graphic game playing on the screen. There was an interactive element to this section because Cobb actually played the game on the projector in front of the audience.
The last section of his concert included two different jazz ensembles made up of of a quintet and quartet. The quartet, composed of Cobb on guitar with bassist Tyler Turcotte, Danny Cecil on the piano, and Brandon Trapp on the drums, performed two pieces, Mr. P.C. by John Coltrane and Nardis by Miles Davis. The jazz quintet included Trapp on the drums, Cobb playing bass guitar, Cecil on Piano, Sarah Schaaf on saxophone, and Evan Baber on trumpet. The quintet performed three pieces, All The Things You Are by Kern and Hammerstein, arranged by Cobb, Along Came Betty by Benny Golson, arranged by Cobb, and Insensatez by Antonio Carlos Jobim, arranged by Cobb.
The improvisational style that jazz creates combined with Cobb's generosity gave everyone a chance to perform solos in the recital.
Cobb said there are many things he will miss about the music department, one being the artistic freedom he was allowed: "I feel like I could go into any project and I would get support from the music faculty, even if it's not something that a particular faculty member is into, they'll tell me 'oh this person can help you out with that' or they'll just say 'go for it'."
On his post graduation aspirations, Cobb says, "I don't know for sure if I'm gonna go back to Louisville, but probably, and I'm gonna try to make a living off of performing and maybe writing. Getting a job at a recording studio would be fantastic because I feel like I have the skills to be a sound engineer. I've gotten into acting again over the past couple of years, and I'd love to do that."
Cobb went on to explain that he was also in the process of growing his online fanbase and had been checking out websites like scsuperfans.com for help and support with promoting his SoundCloud profile to a wider audience.
"It's entirely possible that I'll try to do that and it won't work out, but you might as well go for it" Cobb said with a laugh and casual shrug.
Some of Cobb's pieces from the recital can be found on SoundCloud.