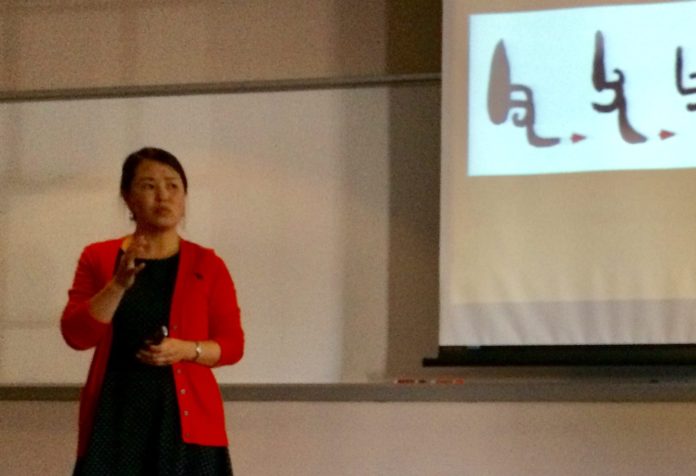 Last week's Academic Affairs presentation was given by Dr. Qian Gao, associate professor of Chinese. Gao discussed the origins and history of the Chinese written language in an effort to emphasize the relationship between Chinese heritage and written characters.  
"I had presented before at Academic Affairs, so I feel a lot calmer this time than the last time. And it is also because the content I presented on the Chinese written language is really fascinating in its own right," said Gao. Before presenting, Gao opened up about her fear of being impolite: "I don't know all my colleagues' names," said Gao. "I will just point and say 'you!'"
Gao's colleagues made up a majority of the audience, which could be counted on two sets of hands. The small crowd allowed for more interaction between Gao and her audience, who were involved by guessing the meanings of characters and even speaking Chinese. Several spectators greeted Gao with "你好 (Nǐ hǎo)," or hello in Chinese. The welcome was shocking, "People already know Chinese, should I be gone?" said Gao.
The presentation also explained the inspiration behind Gao's current project of creating a phonetic Chinese dictionary called "Read Chinese Happily Ever After." "I have always been quite passionate about teaching; I love my students," said Gao. "This [memorizing characters] is one of the biggest pains for them."
Gao hopes to relieve this pain by building on the common radicals found in groups of characters so that students can derive the meaning from reasoning. "I have researched on both the US and Chinese book market; there is no such dictionary [to] exist so far. I am very excited about this project," said Gao. "They [characters] are not difficult for the sake of being difficult."
"Chinese character recognition and memorization do demand some time and energy from learners, although Chinese grammar and pronunciation system are both very simple and straightforward. To help students tackle the hardest part in character learning, my new research project will be focused on the creation of a dictionary aimed to analyze and categorize phonetic-compound characters, which are the majority of the Chinese characters," said Gao.
Gao added, "This dictionary will group these characters in clusters while deciphering their inter-relations and connections through their commonly-shared radicals and each different semantic component. This dictionary will help students to master Chinese characters a lot faster and also help them to expand their characters exponentially."
Gao is also working on a proposal for a Chinese minor to be added to Transy's course catalog. "Students have been requesting for a Chinese Minor for the past several years. I am right now in the process of writing up [a] proposal, which will be submitted to CPC (Committee for Program and Curriculum) for approval by the end of this semester. If it is approved, we should have the Chinese Minor officially on Transy's catalog for the fall of 2018," said Gao.
The proposal is necessary for students studying Chinese, according to Gao. "All foreign languages are important for students to learn in today's world. In recent years, the Chinese language has become one of the most important ones to learn because of China's strong economic power, being just second to the US now," said Gao.
"In all spheres of international relations and interactions, including cultural exchange, political communications and economical activities, China has become an important player, competitor and partner. For several years already, Chinese has been on the top of the Five Strategic Foreign Languages for American students to learn. Equipped with Chinese language skills and knowledge of China studies will help to open more doors for students when they go on to the future job market. It will lend students more competitive power and enhance their potential for success," said Gao.