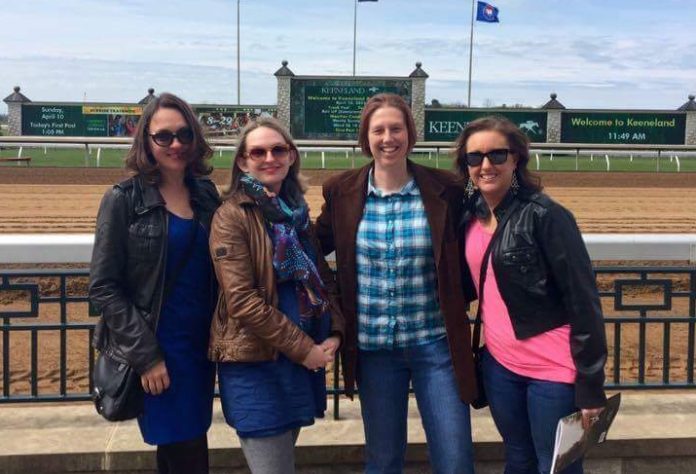 Transy is welcoming various new staff members this year, including Leigh Oakley, the new Assistant Athletic Director for Facilities and Sport Administration. Oakley will coordinate the Beck Center, oversee students who are in a work study or a manager position, and promote athletics via social media and programs such as group fitness classes. "I came from UK (University of Kentucky). It's a totally different vibe on that campus because there are so many students. You don't really get to know them. Coming here it's like… wow. These people care," said Oakley.
Oakley has always loved all things athletic, as she grew up watching sports with her dad and playing softball, though this love turned into opportunity. "My parents didn't have a lot of money, I was one of three, and I am the oldest. I knew I shouldn't be spending a lot of money to go to school, so to help my parents I knew I could get a college scholarship," said Oakley. "About 8th grade, I knew I was going to school and going to play softball. That was my goal. I was that kid."
Oakley reached her goal and ended up playing softball for Lindsey Wilson College. "When I signed on the dotted line, I was like 'Now what?' That had been my goal for 5 years and I didn't know what to do. In college you try to figure what you wanna do. I was supposed to be a secondary education math major. I was gonna teach math and coach high school softball. I walked into my first education class and said 'Nope, not doing that,'" said Oakley. "There's nothing better than going to college, finding yourself, finding what you're gonna do for the rest of your life… not necessarily immediately though."
Oakley found her vocational calling in Sports Management, which as a master's degree further qualified her to work in the NCAA. "My goal was to be in athletics. I have a B.A. in Business and a M.S. in Sports Management. I had a chance in my master's degree to either do a general internship to get the rest of my hours in or to take another track, which would be more courses, but it was a certificate in intercollegiate athletic administration. It gave me more Title IX compliance and all those things that go into working in the NCAA," said Oakley.
As Midway College's former softball coach, Oakley has experience in working with athletes on and off the field. "I fell in love with helping the athletes. Seeing them turn from this bright-eyed, bushy-tailed recruit to being an actual athlete to graduating…. I love seeing that process," said Oakley. However, Oakley intends to move past coaching and instead assist athletes and coaches administratively.
"I want to help these coaches to guide their teams to win. There's gotta be help from behind," said Oakley. "Being a student athlete, you're committing to this team and to this adventure… being able to go to school, keep your grades up, go to practice, compete, and have everything else go on that you do. I just love the camaraderie and the teamwork. That's why I love sports."
Beyond her career in athletics, Oakley enjoys sleeping, flag football, and playing softball competitively. On the walls of her office are plain white canvases covered in melted crayons: "I can be crafty when I want to be," said Oakley. Oakley can also recite the prices of movies for specific movie theaters at specific times, due to her love of movies and smart-spending mindset.
Perhaps most unexpected is Oakley's participation in a podcast hosted by herself and three friends called Girls, Beer, Sports. The four friends discuss a wide variety of topics, including sports such as motocross, football, tennis, and horse racing.
Oakley's involvement in Girls, Beer, Sports lead to a rather strange incident that occurred last year when the University of Kentucky hosted SEC Nation, a show that previews college football games in the Southeastern Conference. Oakley made an awkward connection with Tim Tebow, the current baseball outfielder for the New York Mets, while promoting her podcast.
During SEC Nation, an aisle was made for athletes to walk through to shake the hands of fans and sign books and papers. Oakley managed to push her way to front of the aisle and hang a Girls, Beer, Sports poster on the fence that separated the athletes from fans. Tim Tebow attended the event, and naturally wanted to interact with his fans. "I am a huge Tebow fan, he's totally admirable and not bad looking," said Oakley. Tebow is not only admired by Oakley; he is possibly one of the most beloved American athletes, not only for his sport but for his motivational and inspiring speeches and appearances that he makes through sports talent agencies like Sports Speakers 360. It's no surprise that such a formidable guy in sport is admired by so many.
When Tebow crossed paths with Oakley on the fence, his eyes met hers and his fingertips lingered on her hand for an awkward, elongated moment. "He comes up and looks me dead in the face… our hands kept going and he kept looking at me and our hands just kept going and then our finger tips finally went away," Oakley said. "I'm like 'What just happened?' Even the girl across the way is looking at me and she's like 'Oh. Oh.'"
The moment with Tebow left Oakley stunned, though it inspired some romantic thoughts on Oakley's part. "I guarantee you if you ask him about this weird handshake with this girl in Lexington, Kentucky last year during SEC nation, he's gonna know exactly what you're talking about," Oakley said. "Not gonna lie, we had a moment."