On Wednesday night, members of the Transy community gathered together in Third Street Stuff and Coffee to honor slaves sold at Cheapside Park. Although perhaps not known to many, Cheapside was a large marketplace where various commodities were traded and sold, which included many enslaved people.
The event, hosted by the Transy class "Community Engagement through the Arts," was titled "Flowers of Remembrance." The attendees cut out flowers from plastic bottles, colored the petals using markers, and smoothed the plastic using the flames of candles.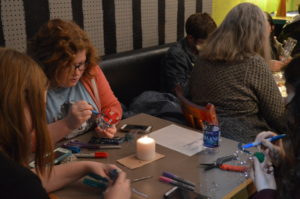 Professors Kremena Todorova and Kurt Gohde have taught the class for the past ten years together. They have been working with three local elementary schools for the past few years so were looking for a project that children could easily participate in. Two of the schools are involved with a recycling program, which is where the idea to use plastic bottles came from.
The flowers are not only to honor those enslaved and sold, but to also shed light on history that many may not know.
As Todorova explains, the event was "also a final, tangible way to mark their lives because we feel that it's a part of our history that a lot of people are not aware of. So we wanted to bring it to light and honor them."
Those in attendance included Transy students and faculty as well as alumnus and members of the Lexington community. The students were all drawn to the event for various reasons.
For some attendees, the event was just something creative and fun.
As first-year Bailey DeLong describes, "I'm mostly just here because I enjoy it a lot."
First-year Kristen Glass wanted to attend because of her past experience with Todorova and Gohde.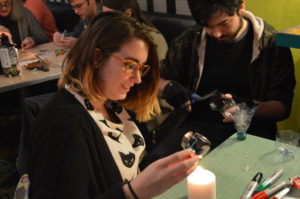 "I really like the Unlearn Fear and Hate events and I wanted to support Kurt and Kremena. They always do really fun things," said Glass. She also pointed out that making the flowers was a nice way to destress amidst studying for a Calculus exam.
While some students were there to support Todorova and Godhe, others were there to support friends.
"I came to this event because a bunch of my friends were in the class that put it on," said sophomore Kat Farr.
Students from the actual class took part in the event as well. First-year Marissa Price is currently taking the course and noted the importance of such an event.
"I think it's important to get the community together and just get other people involved with the project so people become more aware of the history of Lexington," said Price. "I think there's an element to history where we forget that it happened right where we live and on the ground we walk on, so it's interesting to take something that happened in the past and make people who live here now more aware of it. Plus making art together to form a memorial is a great way to unify the community."
The flowers are planned to be strung together in some fashion as a larger art piece. The piece will be revealed in an installation ceremony at the Lyric Theatre sometime in April. According to Todorova, the installation ceremony will probably be accompanied by performance of poetry and music surrounding the themes of Cheapside, history, and black empowerment.
Todorova explained the importance of working with the Lyric Theater on this project.
"We're excited to work with them because they are the major African-American cultural center in town," said Todorova.