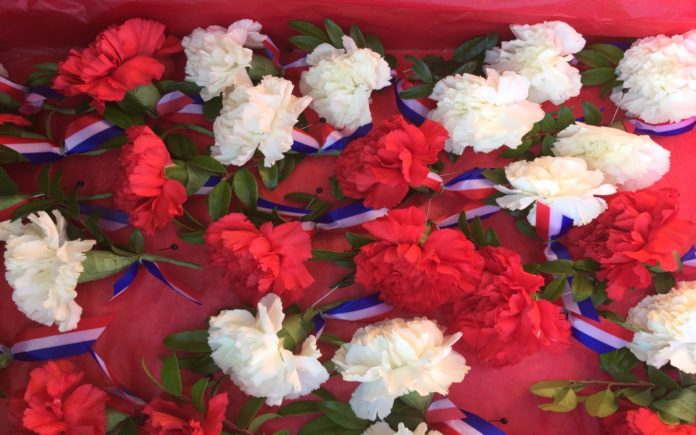 Piece submitted by Jared Robertson-Noel, Lauren Eastman, Sydney Lindeman and Sydney Watkins
---
Over the past couple months, the students of Dr. Adam Evans's management class have been working on planning, preparing, and finally putting on various community engagement projects that are dear to our hearts. Our group decided to partner with Hospice of the Bluegrass, with the goal of honoring veterans who are currently in hospice care by visiting them on Veterans Day to meet with them and hear their stories, while also delivering them donated boutonnieres and appreciation notes created by a local Girl Scout troop.
During the preparation stage of the project, we reached out to various sources in hopes of making contact with a florist who would be able to provide us with the boutonnieres. Fortunately, when we talked to the folks from Oram's florist, they told us that they would be more than happy to help, and they were able to donate enough of the fantastic boutonnieres pictured below to ensure that each veteran would be taken care of.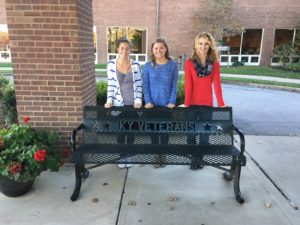 In addition to the direct donations to benefit the veterans, we also wanted to raise some awareness for the excellent, and often under-appreciated, work that is being done by Hospice of the Bluegrass. In order to do this, we set up a table at Pumpkinmania and briefly explained to those who wanted to take a moment to listen what we were planning on doing and what Hospice of the Bluegrass does every single day.
When the day itself came, we spent time with the veterans and delivered the boutonnieres and notes as planned. (With certain constraints in place about what details we can share both for concerns of time and HIPPA laws, we will keep things brief and general.) The veterans we visited spoke with pride about their time in the service and also the things that they went on to accomplish after they had done their duty. The conversations we had with those we visited opened our eyes to the range of things one can do during one's life and which things you truly will value when you look back. Whether the veteran we visited had their family with them or not, everyone seemed to not only appreciate the gifts themselves, but also the fact that someone who had no obligation to do so came to visit them and had a genuine appreciation for their service. This brings us to one of the major perspective changes that we gained from this experience; while it may be tempting to focus on quantifiable things when working on a project or in life, whether it is dollars raised or hours volunteered, what it always comes down to is the people. If you strive to do right by others, and act with genuine goodwill whenever you can, then you will positively impact someone's life, which has a value beyond words.
We would like to sincerely thank Oram's florist for their beautiful donation, Hospice of the Bluegrass for the wonderful work you do for those who truly need you, Meredith Moody for being our point of contact with Hospice of the Bluegrass, Dr. Evans for facilitating this project, and, of course, all of those who choose to serve our country. Thank you.