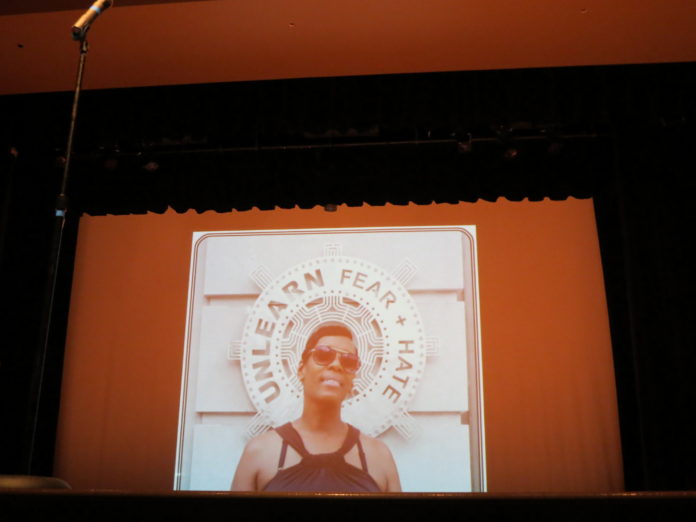 On Tuesday, Oct. 11, nearly 500 elementary, middle, and high school students from Lexington schools gathered in the Lyric Theater and Cultural Arts Center to listen and view artwork created by Transy students. This event, which is part of Dr. Kremena Todorova and Professor Kurt Gohde's "Unlearn Fear + Hate" artwork showcased the creative efforts of Transy students, while also continuing the rhetoric of Todorova and Gohde's campaign.
Students recited poems, performed a short play, played digital music from their music tech class and sang and played instruments. The topics ranged from wanting love to childhood memories and racism. Each piece of art played on the audience's emotions, questioning their ideas of hate and fear. Between each act pictures of people from all walks of life posing in front of the "Unlearn Fear + Hate" halos were projected onto a screen at the back of the stage.
"We wanted to engage Transy students and children from a number of local public schools in a conversation about fear, hate, and prejudice, about why we need to fight them, about different ways to do that. We wanted to give our Transy students an opportunity to shine–with their talents, their brains, and their big hearts. We wanted the attending kids to see college as a real possibility and to feel inspired to go to college one day soon. And we hoped that all of us would enjoy an amazing show–and we did!" said Todorova and Gohde.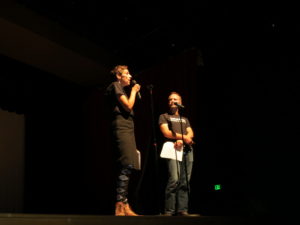 Transy students presented their artwork in hopes of inspiring the children attending the event.
Sophomore Jenna Soderling, who presented an original song titled "Storm" that she recorded and wrote with her friend sophomore Kessewah Amo-Mensah said, "My favorite part of getting to show the music Keesewah and I made to the kids was it was really fun to make and we put a lot of work in it, so it was also cool to have an audience and it really seemed like they liked it. All those little elementary schoolers were bobbing their heads to my jam and I was like, 'Yes.' I hope it inspired them… you can do stuff like that."
These two were not the only students who received positive feedback from their audience. Sophomore Natalie Jewell's recorded cover of Lana Del Rey's "Summertime Sadness," on which she collaborated with junior Timothy Baker, had the kids singing along to the words of the popular song.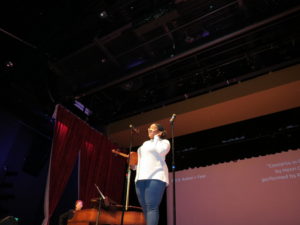 Another Transy student, sophomore Destinee Smith, presented her song "Demonic Phone Call" which she recorded and composed in her music tech class. With it's deep alien-like noises and phone tones the song lived up to his name.
One elementary student exclaimed, "That was so cool!" after the song finished.
Todorova and Gohde ended the program with a video they and a group of first-year students helped to create during August term of the group painting "Unlearn Fear + Hate" in bright orange across Bourbon Street while the song "We're Going To Be Friends" by The White Stripes played, singing the words "I can tell that we are gonna be friends."
The Lyric Theater contacted Todorova and Gohde to organize an Unlearn Fear + Hate festival, which they had received a mini grant for.
"By far, the overwhelming desire on the part of people and organizations to participate–organizations we've never before interacted with, people from out of state and out of the country. It is clear that the wounds caused to all of us by fear and prejudice are deep and deeply felt, that many of us feel a real need to heal. We're humbled by the response our artwork has received thus far." said Todorova and Gohde about the community wide support of their artwork.