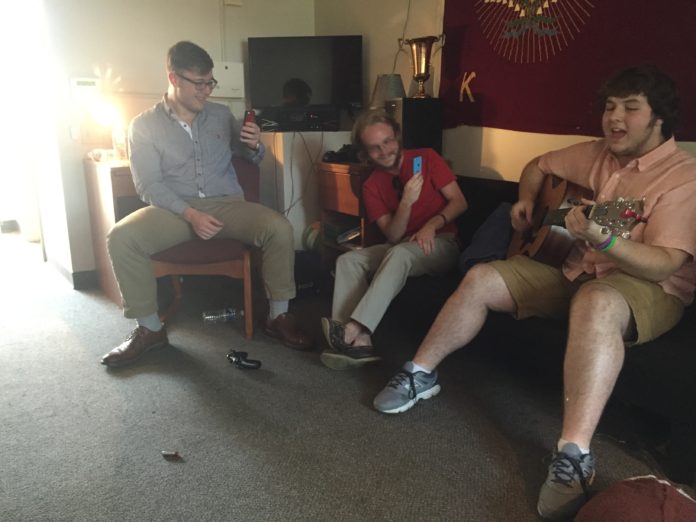 As Pike members Dustin Kiser, William Easley and Ethan Franklin relaxed in their "sanctuary," Michael Maggard played an acoustic rendition of "Get Low," which was reminiscent of the group's humor at dinner as they discussed the potential titles of "Started from the Bottom…We're Still There" and "I Only Spent 47 Seconds with Pike and It Was Hell" for their Rambler profile. The humor towards their chapter and their representation of the chapter through their kempt appearance and courteous behavior might come across as a contradiction, yet these aspects all come from an awareness of the envisioned future for the chapter.
"One of our big phrases is perception over time equals reality and the way we've went about that is, everybody's gonna view us the same way that they have if we allow that to be the general perception that we give off," said Kiser. "So we've ensured to go above and beyond with the way we dress because our four main principles are scholars, leaders, athletes, and gentlemen."
"If you feel like you're putting extra effort into yourself, you're gonna be more likely to feel that you can put extra effort into everything else and at this point we have ten guys, we have to be putting all of the effort into this that we can," said Easley.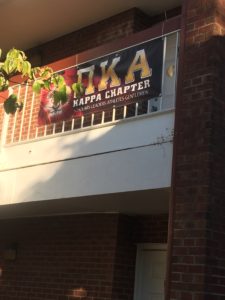 As Kiser and Maggard were recruiting potential new members on a previous night, the conversation was "serious," with Kiser emphasizing what Pike is looking for: tenacity, determination, and willingness to face adversity. The conversation went on until around 1 a.m., when Kiser and Maggard decided to head back to Kiser's room. Maggard rushed in to wake Tyler Stumbo, with shouts of "Stumbo dude, wake up," only to tell him that nothing was actually going on. Kiser describes this ability to flip from "100% serious business to 100% causal" as necessary.
"You have to be serious at times and you have to be completely comedic and just unwind and relax because it's really stressful, what we're doing," said Kiser. "Other people on campus have four times, five times our guys, so the tasks that they have ahead of them are significantly smaller, whereas us 10, we're busting our butts, day-in, day-out, 24/7."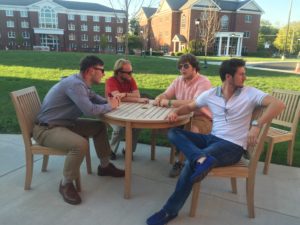 To the members, Pike is at times viewed as the "little brother" on campus, but a positive relationship between this label and the campus community wanting Pike to succeed exists.
"Everybody loves a Cinderella story, so every time we come out, every time we get better, it's like the whole campus can get behind us and rally around us because they know what we're doing. We're fighting the good fight and it's hard not to support that," said Kiser.